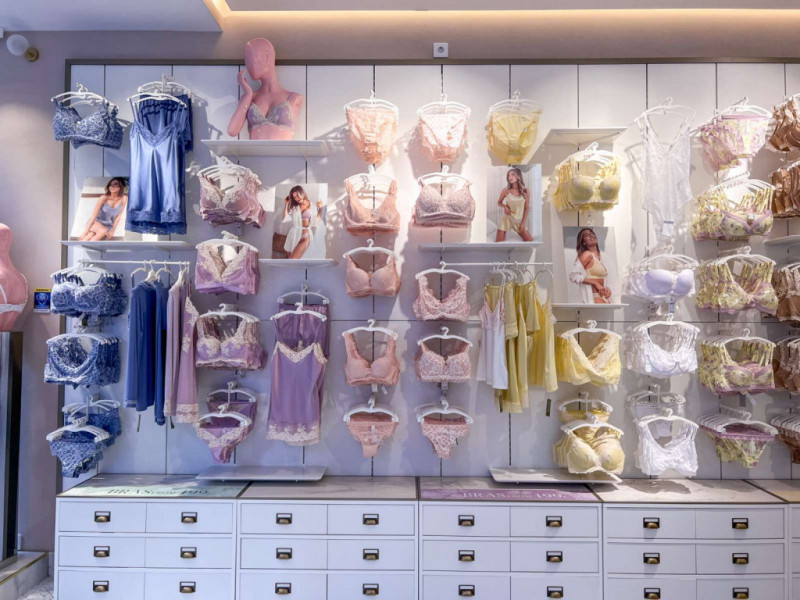 Trendovi
The best materials for underwear and sleepwear
The best materials for underwear and sleepwear
Pastel palette of natural materials
Everything is indicating that trends in sleepwear colllections, as well as the ones for everyday casual clothes are moving in the direction of striking prints, flower details, pastel colours...
For the best underwear and sleepwear pieces (nightgowns, men, women and kids pyjamas, baby doll pajamas...) the right choices would be the finest natural materials that provide softness, breathability and comfort. Luxurious and silky materials, that slide across the skin are the best choice for elegant and attractive slip dresses, nightgowns, and kimonos that are currently becoming very popular. The general hits are camisoles and two-piece sets, konwn as baby doll. We present you the most popular fabrics for these worldwide trends:
The top 10 kinds of underwear fabric from Textil offer
1. 100% cotton - quailty, comfrot and easy to care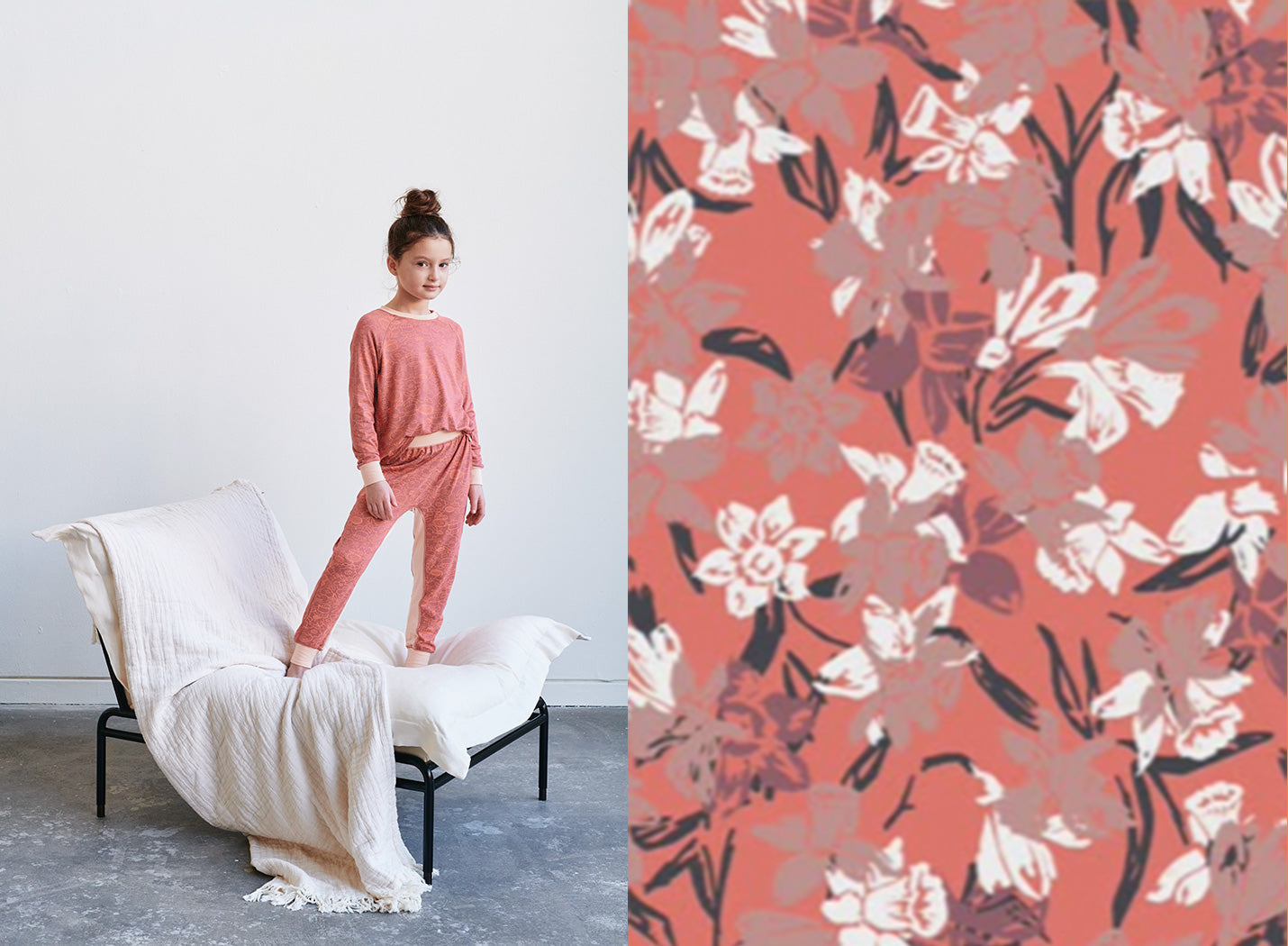 When we talk about underwear, key words are comfort and high quality of the fabrics. Finally, you need a natural fabric that provides key health factors such as breathability and good absorbance. Cotton jerseys from Textil selection are the best choice for making kids underwear, men boxers, baby clothes, tank tops, women's, kid's and men's pyjamas.
Singl TT-065 is thin, 100% cotton single-knit fabric, known for its softness and natural elasticit. It's absorbent and breathable, it keeps you cool while you're working out. Health experts recommend cotton underwear because it allows good airflow that can help prevent yeast infections and other health concerns. Finally, cotton also feels very soft to the touch and can keep you cozy and comfortable all day! This natural fabrics is go-to fabric for everyday panties or briefs.
This article is mix&match with:
Singl TT-068 Prt – a printed 100% cotton fabric. It has the same characteristics as Singl TT-065. Textile has a lot of available modern prints, but could always make a special one just for you.


2.Cotton jersey with lycra - softness and elasticity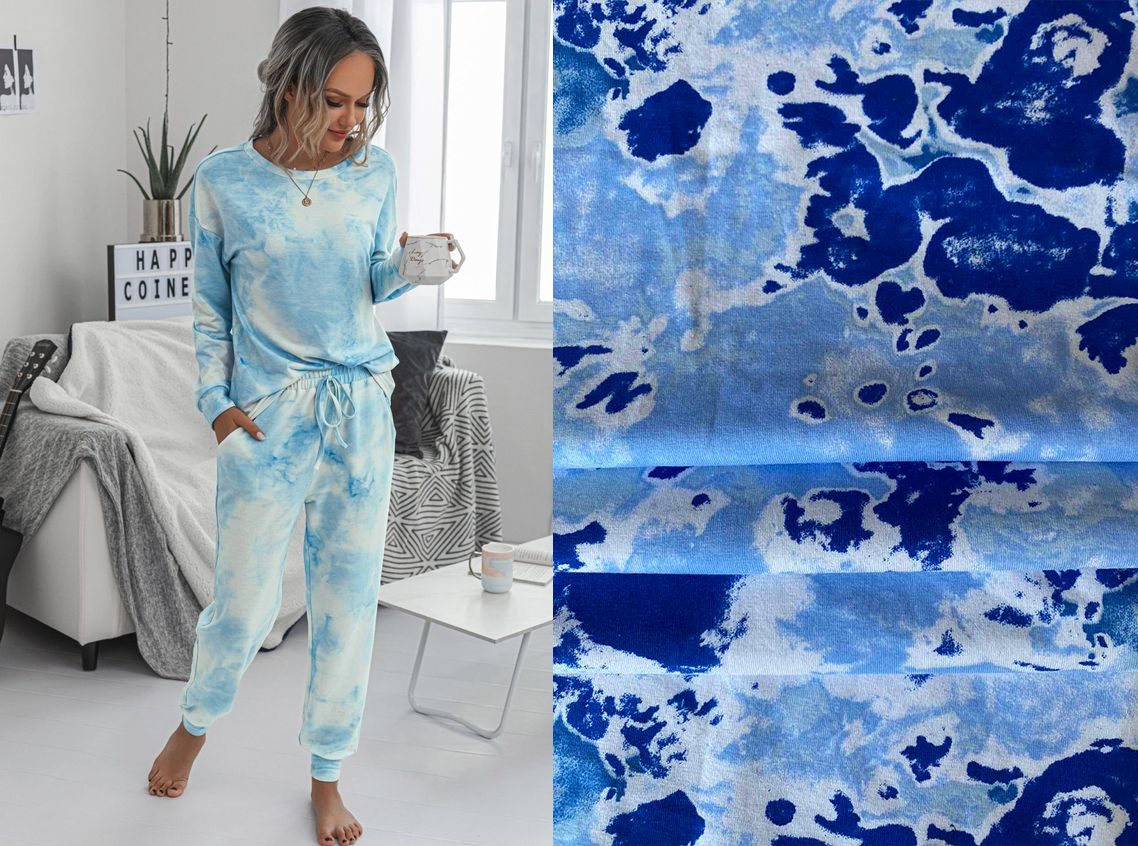 Cotton jersey is a type of cotton fabric made by interlocking loops of thread. This natural fabric is the best choice for T-shirts, hoodies and leggings and many more everyday pieces, that include underwear and sleepwear. The thousands of tiny loops in the knitted material allow it to stretch and then retract easily, creating a soft and stretchy material. Think of how soft and stretchy your favorite t-shirt feels!
The best quality stretch cotton fabrics from Textil offer are:
Singl TT-12 Likra - cotton jersey with elastanethat has 90-colour palette always availabe on stock, and slightly larger weight, especially suitable for leggings - Singl TT-07 Likra. Their patterned cotton counterparts from our offer are Singl TT-070 Likra Prt (165-170gm2), and Singl TT-072 Likra Prt (180gm2).
3. Viscose - silky and elegant

Viskoza Pl. XT-20 likra

Košuljar Vis Chalis prt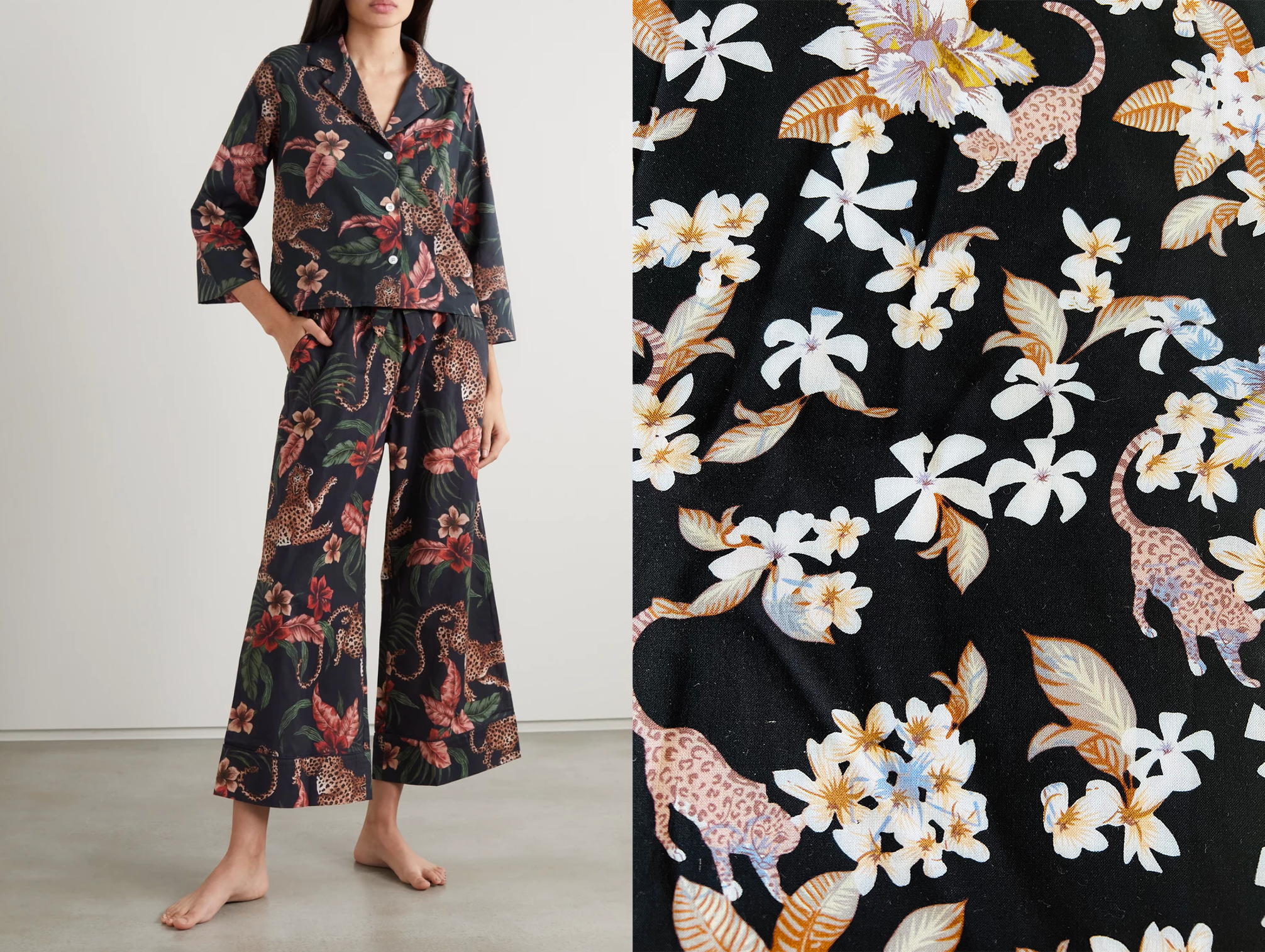 Everyone that had the opportunity to wear a nightgown or pyjama made of viscose knows just how this material feels super soft and light and that it looks really sensual. This makes it a great choice when it comes to mixing comfort and elegance. Viscose is a partially man-made fabric created by chemically processing wood pulp or bamboo fibers. In general, viscose feels soft and silky to the touch. Some types of viscose may even feel softer than cotton! Because of all this caracteristics, it is convenient for hot summer days, and generally it is considered the best for making light nightgowns. How to Care for Your Viscose Fabric? Most of the clothing items that are made of viscose are labeled as "dry clean". Twisting and pulling the fabric isn't recommended, so you might be better off dry cleaning it unless you know how to wash it properl You can also try to hand wash it as this can be gentle enough to clean the fabric.
When it comes to viscose, we recommend:
Kosuljar Vis Chalis/ prt - thin and lightweight, 100 % Viscose Woven. It has an elegantly flowing drape that will provide movement and breathability. Use it to create comfy pyjamas , nigtgowns, baby doll sets, sets, robes and casual pants that you can wear during the whole day,
Viskoza Pl. XT-20 Likra- This Strech Viscose Knit is one of the most popular Textil items. Extremely smooth , soft and lightweight, but still strong and durable. It breathes and drapes well. Very comfortable to wear and also color resistent.
4. Satins - luxurious, sensual and easy to care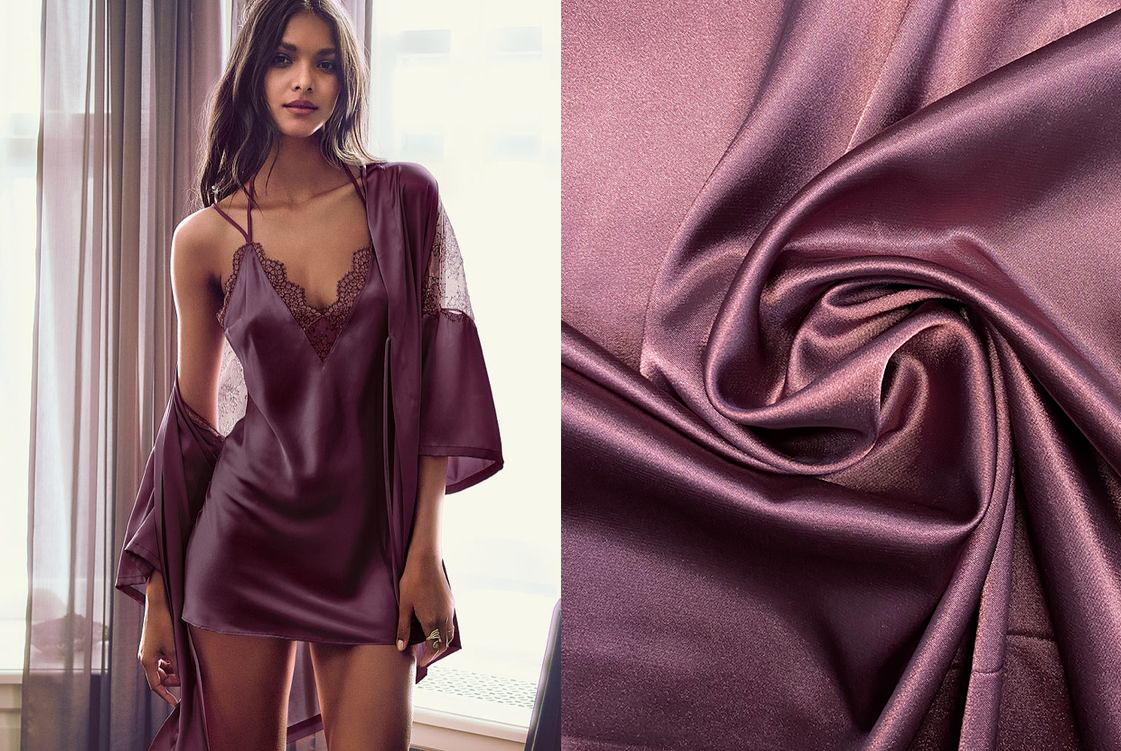 One of the most popular fabrics for luxury pyjamas, sets and underwear are definitely satins. Satin fabric makes silky drapeable or shaped underwear that looks very pretty. This kind of underwear or lingerie offers an affordable option for fancy occasions These fabrics look very nice and have a certain lightness which makes them perfect choice for summer. In combination with lace, till or mesh, you can create different kind of elegant pieces. Slip satin dresses and robes are perfect choice when you don't want to leave your house and dedicate a day for relaxing with a cup of coffee and your favourite Netflix show.
Our choice of fabrics that belong to this group:
Košuljar S Saten Strec -Elegant, silky satin polyester characterized by luxurious shine and softness. It contains lycra which provides comfort and flexibility. It does not wrinkle and is suitable for draping and pleating. With a large palette of colors, its application is extremely wide.
Košuljar S Madlen - Elegant Polyester Satin. This fabric is luminous, with incredibly glossy feel, fluid and clingy drape. It gives an effect of cooling and protects the skin from overheating in the hot summer days.